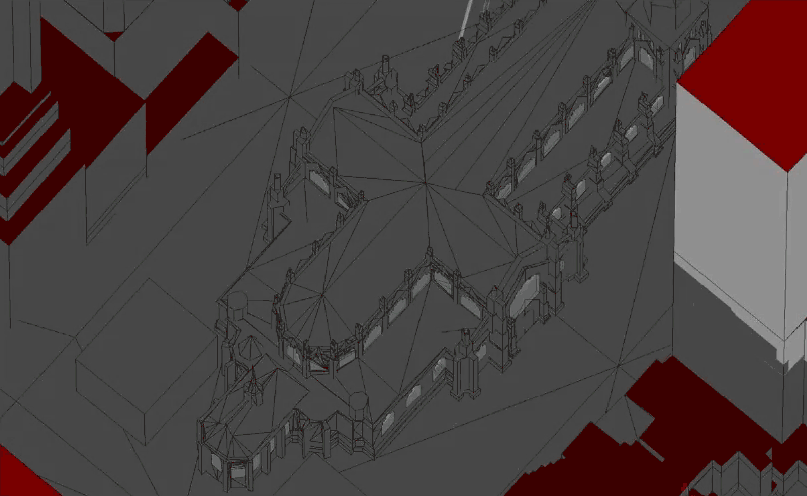 Researching the solar radiation over the course of a year showed us the highest impact areas.
In order to evaluate the impact of sunlight on the strained glass as far as increased temperature in the interstitial space, we commissioned a shadow study by the Enviromental Simulation Center/ Michael Kwartler and his colleague Alihan Polat Site specific model of context in midtown manhatten included trees with leaves on our site. this allowed us to see which windoess were most subject to direct sunlight
​
​
​
​
​
A three dimensional solar study was done on March 21st. Snap shots from four angles were compiled to show how light moves across the cathedral.
- Axonometric View Looking Southwest -
Window 107
The middle panel depicts Architect James Renwick (1818-1895) showing the plans of the cathedral to Archbishop Hughes (1797- 1864, to the left) and Cardinal McCloskey (1810-1885, on the right). In the background is Nicholas Lorin of Chartres (1833-1882), maker of 27 of the windows installed in the 1870's and 1880's.
New York, New York
2011-2015
Zubatkin Owner Representation
Murphy Burnham & Buttrick Architects
Structure Tone
St. Patrick's Cathedral is a Roman Catholic cathedral in Manhattan, New York. The cornerstone was first laid in 1858. The restoration efforts involved upwards of 25 different firms. Botti Studio was tasked with referbishing damaged windows, replacing protective glazing, and installing our interstitial venting system. Botti began work in 2011, the project took 4 years to complete.
​
St. Patrick's Cathedral was built in an area considered the outskirts of manhatten. The surrounding buildings rarely exceeded a few stories in height. St. Pat's was massive, and likely a catalyst for the expansion of Mid-town.
St. Patrick's Cathedral circa late 19th century
photo: Murphy Burnham and Buttrick Architects
During the initial research it was discovered that the origional windows were installed without any interstitial venting. Luckily we discovered after triage that hte windows were in relatively good condition.
​
​
​
​
1. Install an interstitial venting system.
​
2. Replacing protective glazing that had been installed in the 40's and 70's.
​
3. Referbish damaged windows, or poorly done, previous repairs.
​
4. Replace leading where structural failures were found.